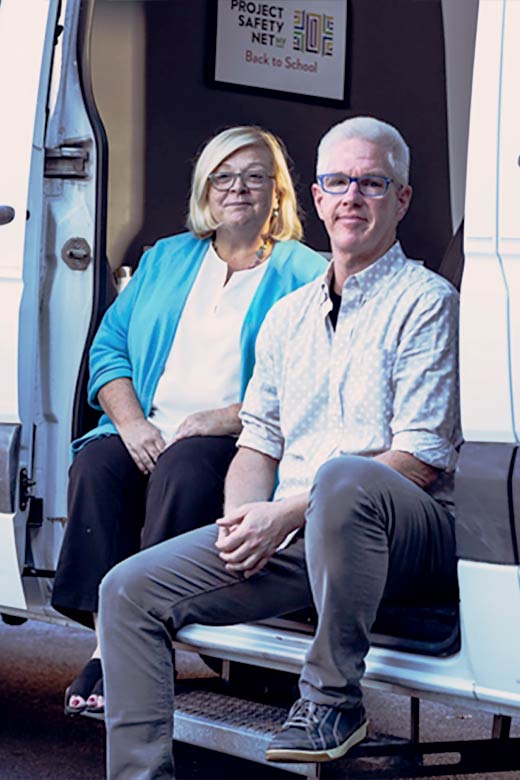 Message from Leadership
Each wave of COVID-19 teaches us more about the urgency and relevance of public health. There is no social practice, no hygiene habit, no assumption about how we lead our normal lives that has not been challenged or shattered. Still, in the face of isolation, fear, and mistrust, it is our role as community health workers to find solutions for connecting, educating, and alleviating anxieties that have been heightened by the pandemic.
Project Safety Net is proud to be the only organization in Suffolk County to continuously offer mobile HIV, Hep-C, STI, and substance abuse screenings over the past two years. Our flexible outreach techniques have helped identify new infections and new needs among the hardest hit neighborhoods, and our re-location to Patchogue Village has enhanced our ability to serve communities on the more rural East End.
In collaboration with local representatives and in partnership with our network of providers, we work every day to build community that uplifts the individual and contributes to the safety and wellness of families. We welcome peers and advocates to join us as we continue to grow!
Jane Bertsch-Wells, Managing Director
Colin Pearsall, Executive Director
James
Swift
Bio
Jimmy Swift is the National Executive Director PLA University at Phalen Leadership Academies. PLA is a Non-Profit Organization that specializes in School Turnaround for K -12 Schools across the country in underserved communities and serves over 10,000 students. Jimmy's role is to build and run the organization's Workforce Development Program that is offered exclusively to PLA students' families to help them acquire the skills needed to achieve gainful employment and move from poverty to prosperity.
Dr. Kevin
Jordan
Bio
Dr. Kevin Jordan has more than 25 years of experience in higher education, specializing in student support services. Currently serving as VP of Student Affairs at SUNY Farmingdale, Dr. Jordan's management roles include Chief Diversity Officer, Assistant Dean for Student Development, and Dean of Academic Support Services at a variety of colleges in Long Island and New York City. Dr. Jordan holds degrees from Princeton University in psychology and African American studies, Union Theological Seminary in practical theology, and Dowling College in Educational Administration, Leadership and Technology.
Dr. Edward
Martinez
Bio
Edward F. Martinez, Ed. D. is a first-generation college student who has 25 years of administrative, academic, and program development experience in higher education marked by numerous leadership roles in student affairs. An advocate for student access, Dr. Martinez is the Associate Dean for Student Affairs on the Ammerman Campus at Suffolk County Community College, SUNY'S largest community college. His research interests focus on the narratives of Latinx students and professionals in the community college sector.
Janet
Powers
Bio
After 132 years of organization, Steamfitters Local 638 elected its first woman Business Agent. Janet Powers is that woman, representing 8,200 members across Long Island and New York City. As a 30-year veteran in a male dominated industry, Janet knows the challenges of equal opportunity, fair pay and just representation. In addition to advocating for workers' rights, Janet is a proponent of using the power and success of organized labor to create pathways and opportunity across generations.
Shaun
Rasmussen
Bio
Shaun Rasmussen is the Director for External Relations & Engagement for CUNY's Accelerated Study in Associate Programs (ASAP), a nationally recognized associate degree completion program serving 25,000 students. In this role, Shaun leads program marketing and citywide outreach efforts. In addition to his experience at CUNY, Shaun has held a variety of positions focused on the arts, education, and employment opportunities for young adults in New York City. Shaun holds a BA in International Criminal Justice and MS in Organizational Leadership.
Dr. Erwin
Cabrera
Bio
By fusing his passion for students with his expertise in science, Dr. Erwin Cabrera aims to uplift and mentor the next generation of young scholars. Dr. Cabrera is motivated to guide students and be the bridge between the academic-science world and the community, especially for those who are typically underrepresented in these arenas. He holds a BS in biological sciences from University of Maryland Baltimore County and MS and PhD in Biomedical Sciences and Neuropathology from New York University School of Medicine.
Ilvan
Arroyo
Bio
Mr. Arroyo is Associate Director of the Center for Public Health Education at Stony Brook University. He has spent 30 years working in the field of HIV/AIDS, providing training to health and human service providers. Mr. Arroyo oversees the LI/NYC Regional Training Center Initiative on HIV/STI/Viral Hepatitis and New York State's AIDS Institute Peer Certification Program. He serves as Program Director of Stony Brook's Northeast/Caribbean AIDS Education and Training Center. Mr. Arroyo is a member of the Ryan White Planning Council for the Long Island Region as well as Stony Brook University's diversity training team. He holds a BS in Bilingual Special Education and MA in Health Systems Management and Policy.
John
Maresca
Bio
John Maresca is a Long Island native with over 20 years' experience in finance and accounting, predominantly in the media industry. He currently works at Warner Media, focused on financial reporting and digital advertising finance; prior to that he served as Finance Director for Bloomberg Media's magazine publications. He holds an MBA in Accountancy from Baruch College.

Elizabeth Kann |


Director of Development
Loida Santos |


Community Service Director
Jennafer Spedaleri |


Director of Grant Programs
Lenny Spada |


Program Coordinator
Stephen Clifford |


Prevention Specialist
Vivien Llanes |


Prevention Specialist