A Conversation with HARP Care Coordinator, Ashley Morris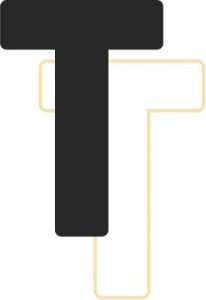 Taking time to sit for a conversation in our agency's conference room, PSNNY's Care Coordinator, Ashley Morris, exudes serenity and quiet focus.  Ashley is a first generation American. Her parents immigrated to New York from Jamaica and settled on Long Island where they purchased a home in Brentwood.  Attending Brentwood High School and completing her undergraduate degree from SUNY Old Westbury, Long Island has always been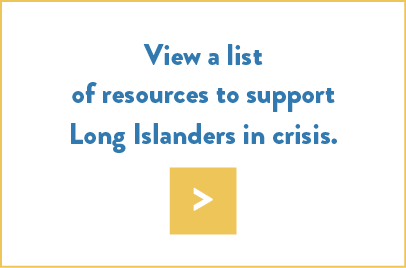 Ashley's home. Ashley began working as a HARP Care Coordinator within PSNNY's Health Homes Department right out of college. HARP, Health and Recovery Plan, is a special initiative within New York State's Medicaid Managed Care System that provides an integrated set of physical, mental health and substance use services for clients with a history of repeated stays at hospital and treatment centers. Ashley explains PSNNY's public-health approach to working with such individuals:

When asked about the challenges and successes she has encountered with her clients, Ashley hesitates, revealing protective concern. She wants to honor her clients' individuality and dignity, but also wants to protect their privacy. We agree to change the clients' names, and Ashley proceeds with a smile, focusing on the hardest hit clients in her caseload, those who are homeless. While many of her clients live in temporary housing or shelters, a small number live on the street.  Ashley points out that many of these clients were referred to her by the
Long Island Coalition for the Homeless
(LICH), a community-based organization that provides
a network of supports for homeless populations throughout Suffolk and Nassau Counties.  LICH street outreach worker Dylan Schwartz not only connects her with Medicaid eligible homeless clients, notes Ashley, he works closely with her to ensure these clients are linked to housing services through his agency. One gentleman who most recently benefitted from this collaboration is Ben, a homeless 64-year-old man with stage 3 lung cancer and COPD, who also suffers with acute PTSD because he was incarcerated for ten years.  Ben left prison without any family support, no housing or job prospects. Rather than depend on local shelters, Ben decided to set up a tent in the woods, a place he calls "the spot" which is located behind a coffee shop and an abandoned store. He kept his belongings in "the spot", covering them with branches and cardboard boxes.  Ben spent a large amount of time in Eisenhower Park, but would travel back to his spot to sleep or to avoid harassment for loitering in the park. Ashley notes that

Over the past year, Ashley and Dylan partnered to get Ben medical care and mental health treatment. They were able to secure him an apartment which he could pay for using his disability benefits. Ashley notes that while she considers Ben a success story, she must strive to ensure that Ben maintains his sobriety and develop the practical skills needed to adapt to his new living arrangement. After spending ten years in prison and five years on the streets, he needs ongoing assistance to maintain his health plan while adjusting to a new lifestyle, one day at a time.
These past six months were particularly challenging for those Ashley serves:

One client, a 60 year-old man with kidney and heart disease, contracted an infection from his defibrillator which killed him. Another client, a 39 year-old woman who had strong sobriety recovering from a heroin addiction, died in her sleep from heart failure. While she was working hard to overcome her PTSD brought on by her years as a victim of human trafficking and domestic violence, her body finally gave out on her. Just the mention of her third client, Jim, gives Ashley pause. She breathes and resettles herself in her chair explaining that his future initially looked so promising:
"Jim was only 43 years-old and had a wife who stuck by his side and a daughter he loved dearly. He was so motivated to stay sober, but things got really hard for him after he was discharged this past spring to a sober house. He died of a heroin overdose in early June."
It cannot be determined that his death was a clear case of suicide, as there is no evidence he made a conscious decision to take his own life.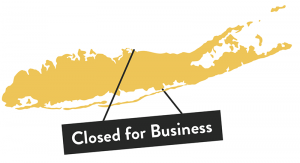 However, it is certain that the isolation and lack of resources due to the COVID-19 shut-down plunged Jim into a state of despair that impacted his motivation and brain chemistry, ultimately resulting in the relapse that took his life. Sadly, Jim's story is all too familiar in the wake of this unprecedented health pandemic. While the national COVID-19 death toll has surpassed 210,000, experts anticipate that an ever-increasing number of lives will be lost due to fallout around community shut-down.  Ashley is just one of the many health care workers on Long Island challenged to provide critical services to vulnerable people in the midst of a health crisis that we have only just begun to understand. Her stories speak to those at risk for suicide, as well others whose loss of life can be termed as
deaths of despair.
Jim was referred to PSNNY's Health Homes program by
Phoenix House
, a Suffolk County drug and alcohol treatment center. Ashley explains how Jim benefitted from inpatient treatment; she marveled at how hard he worked to set up a plan to maintain his recovery. With the support of his family, Phoenix House staff and Ashley, Jim's initial transition to a local sober house was successful.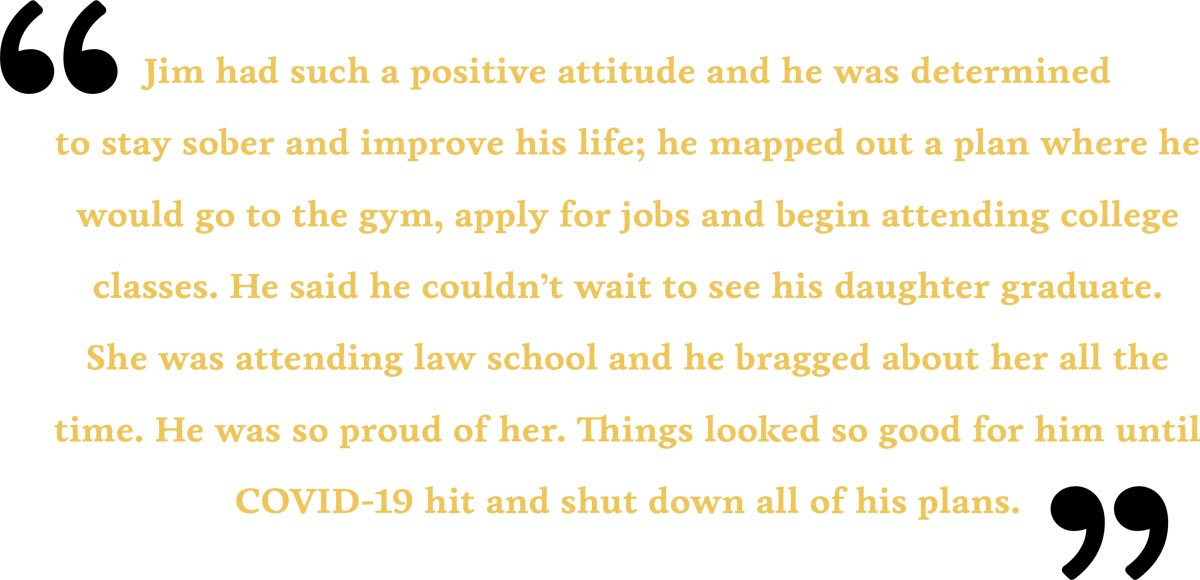 By the end of March, the gyms closed; all the colleges shut down their campuses; there were no viable jobs on the horizon; recovery meetings and healthy outside activity were extremely limited. All of the things Jim expected he could rely upon to support his recovery disappeared as quickly as the pandemic hit our region. What's worse, he no longer had access to in-person contact with Ashley. During the height of the shut-down this spring, care coordinators throughout agencies on Long Island were not able to make personal visits to treatment centers and sober houses and were forced to rely solely on phone calls. Ashley sighs as she expresses feelings of grief mingled with a sense of helplessness around Jim's misfortune. She explains that she was unable to detect the signs of Jim's decline, and was surprised to learn from his wife in early June that his lifeless body was found by the staff at the sober house: "The last time I spoke to Jim was the end of May. He said he was doing well and he was happy, but clearly he was not. What bothers me is that if I could have made personal contact with him, I might have seen with my eyes what I could not detect over the phone. Maybe his expression or affect or body language could have revealed something about the crisis he was in." Ashley is convinced that if Jim had been able to work on his recovery plan, he would still be alive. He was yet another casualty of this pandemic. While Jim may not be counted in the official COVID-19 death toll, he died from a pervasive despair brought about by the fallout around this pandemic on Long Island.
The ability to respond effectively to clients with acute needs requires a high level of skill, notes Ashley. She explains that accurate assessment and meaningful relationship building enable clients to develop the self-efficacy they need to navigate the dauntingly complex systems of services aimed at keeping them well: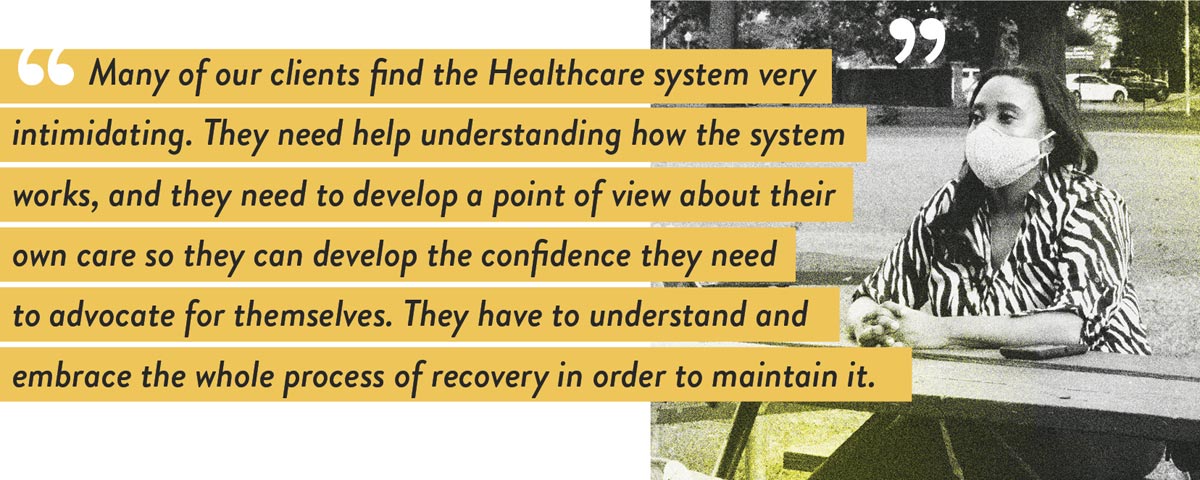 Ashley is grateful for the supervision she receives at
PSNNY
, and credits the leadership within her department for the high quality of services the care coordinators provide. Clinical consultant, Dr. Therese Bertsch, a seasoned and highly skilled mental health and substance-use expert, works closely with Harriet Gourdine-Adams, the Director of PSNNY's Health Homes Department, who provides a solid organizational framework that fosters successful collaboration among the team.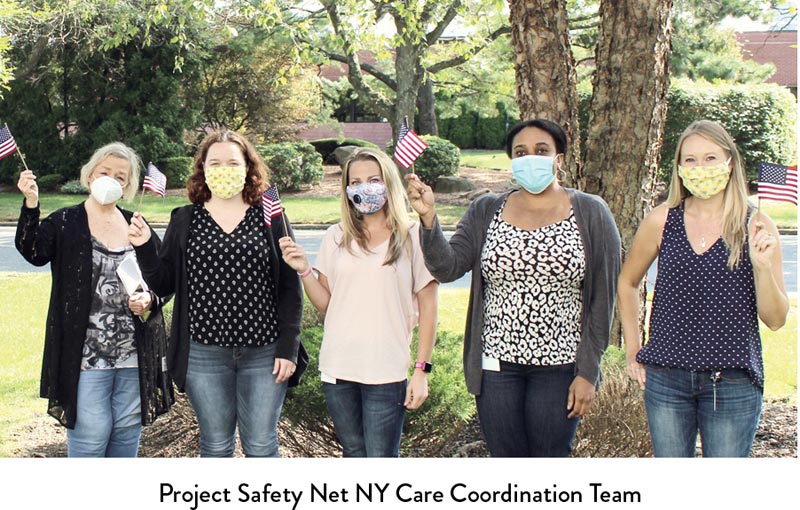 Meeting for clinical supervision on a weekly basis with Dr. Bertsch allows Ashley to closely examine and understand client needs, and learn effective engagement strategies based on listening for signals and signs around addiction, mental health and physical ailments. Ashley says Dr. Bertsch has helped her understand the nature of specific conditions and behaviors and to practice a nuanced approach to intervention that is trauma-informed and client-focused. Each week Ms. Gourdine-Adams and Dr. Bertsch facilitate a team meeting where care coordinators are encouraged to share and collectively problem-solve the barriers their clients encounter: "
Our group meetings are a godsend because we help each other locate the resources clients need to survive. This spring, one of my clients, a mother with children, was waiting to receive SNAP benefits and had little access to food pantries. Fortunately, at the same time, my team member Shannon Jolly was forging a relationship with
Carroll's Kitchen
, a local group of chefs and restaurant owners who began delivering meals to the hungry when the virus hit the Island. Shannon helped the group organize volunteers to make deliveries and often volunteered her own time when needed. Shannon made sure my client and her family received food deliveries until their SNAP services kicked in."
When asked what the tragedy of this pandemic has taught her, Ashley returns to thoughts of Jim. She explains how his death reminds her that she cannot simply take a client's word at face value during a crisis. Despite all her efforts to remain responsive and in close contact with Jim, phone outreach ultimately proved inadequate:

While the challenges around COVID-19 may be new, lack of resources is not. Ashley points out that she is grateful to work with a responsive and skilled team of professionals committed to solving problems. They will continue to work together to find solutions to support their clients. This is an ongoing process that never ends, but it is fused with a hopeful collaborative effort that will continue.
Do you have any stories you'd like to share about people who make Public Health count on Long Island?