A conversation with Lawyer/Activist Lasheca Lewis Esq.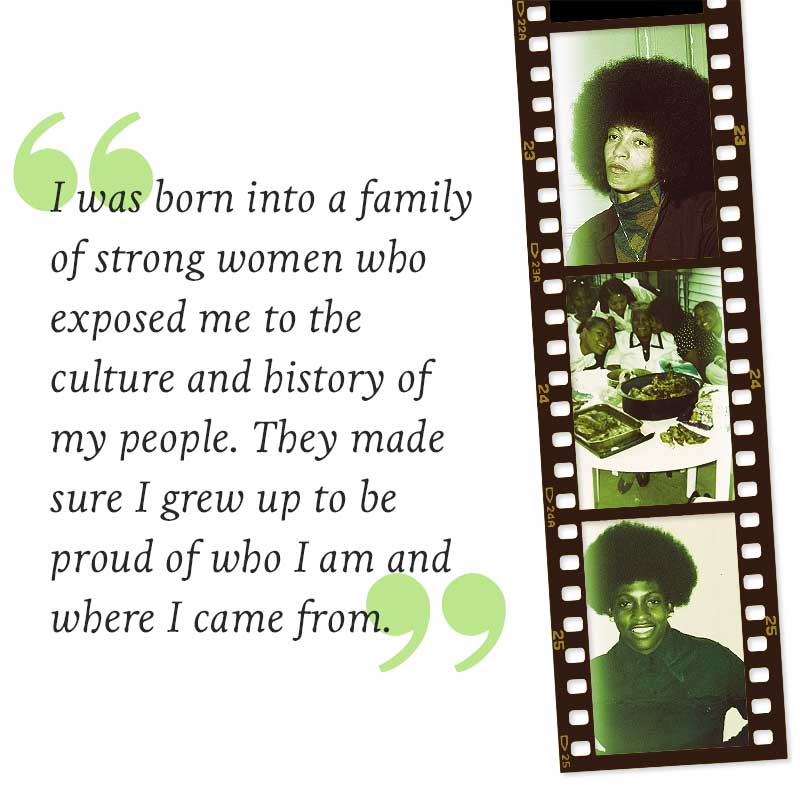 Lasheca attributes her keen sense of mission and agency to her upbringing. The only child of Renee Lewis, she and her mother shared a home with her grandmother in Wyandanch. The family matriarch, Lasheca's grandmother Odessa Lewis, gave her granddaughter a steady supply of love and security. Lasheca's mother and Aunties modeled for her how to be a strong and confident black woman. Lasheca recalls going to work with her mother at Winthrop Hospital and the pride she felt seeing her mother in a white lab coat, handling specimens and working on medical data. Her Aunties gave her their sense of adventure and love of learning. Idell, who Lasheca refers to as Auntie Africa, lived in Harlem and often took trips to the African continent, bringing back beautiful dolls and presents for Lasheca. Auntie Pat was a former black power activist: "She was a Black Panther. She had the big afro and so many stories. She was always reading books about black history and politics." Auntie Verla, who Lasheca describes as a "foxy woman," was a pre-school teacher, and belonged to the prestigious Zeta Phi Beta Sorority.
Lasheca's fond memories of family are rivaled only by the memories she has growing up in her hometown. A big smile brightens her face when she describes memorable women in her community.

Another prominent figure in Lasheca's youth is Miss Betty Page, an officer with the Central Long Island Chapter of the
New York State branch
of the NAACP. Betty recruited Lasheca as a fourth-grader to join the local NAACP youth division. Lasheca jumped at the chance to participate, and not long after began serving as the group's treasurer. She makes it clear that serving her community in this capacity taught her about the many inequities for people of color on Long Island, the history of unfair local housing practices and school zoning that have contributed to racializing poverty across the island:
"When I was young, there were no grocery stores or banks that I can remember in Wyandanch … only the cash checking places, corner stores, liquor stores, hair salons, barbers and Chinese and Jamaican take-out. And none of those businesses were black-owned, except for Reggie who owned CBC Computers, which he still runs today."
Lasheca excelled academically throughout her youth and took advantage of every educational opportunity that came her way. In the summer of junior year in high school, Lasheca was able to secure a Ujima Internship, which provides Town of Babylon minority high-school youth the opportunity to travel to Washington DC where they serve as paid interns. When Dr. Miller secured a partnership between Dowling College and Wyandanch School District in service of the early college initiative GEAR UP, Lasheca was first in line at her middle school to participate. Providing opportunities for these students to attend college classes, this initiative helped shape Lasheca's future. As the Director of Dowling College's federally funded special program, Student Support Services, Dr. Miller ensured that Lasheca received academic advisement and support throughout her undergraduate career.